Garden Design Consultancy
Sequoia will provide professional and polite services from the start of your project right through to the very end.
Before we arrive for a garden design consultation, we will discuss the areas you would like to landscape and what you have in mind. We will then arrange to visit you and go through in detail what you require.
Garden design questions to consider: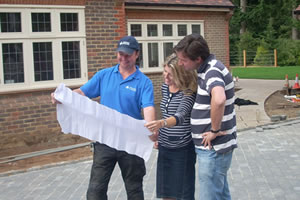 How you use your garden, driveway.
The style of your home and whether you would like to continue with a contemporary or period design.
Features you wish to add to your garden for example a water feature, decking, fencing and specific plants.
Any design and materials which could enhance your garden, or that you would like.
What is your budget?
After this we will be able to put together a full specification and design of the proposed landscaped garden within 14 days. Changes can be made as required. When agreed we will discuss a start date with you.

To arrange a consultation, please get in touch today.